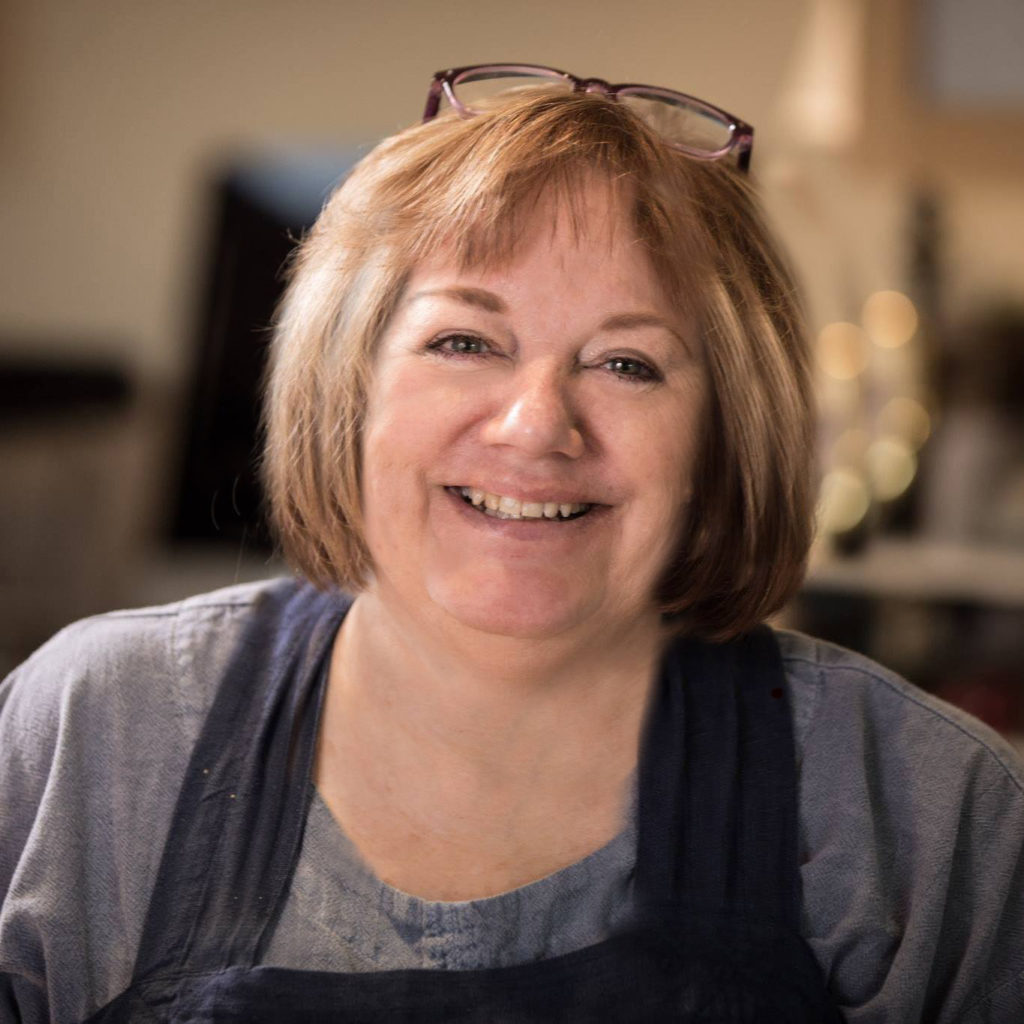 Welcome!
I am Laura McHugh, a self-taught artist and engineer. I live in Half Moon Bay California, near the beach.
My artwork is inspired by color, flow and connection. I am a mixed or combined media artist, working primarily with paper, watercolor and ephemera but sometimes working in three dimensions.  I love buttons, bowls, books, and boxes.
The website, particularly the galleries with slideshows of various bodies of my work, will give you a small peek into my world.
Background
I've been working as an engineer for the past 30 years mainly in the real estate/facilities management and environmental health and safety sectors, with a B.S. in mechanical engineering and a Master's in Business Administration.  I also have a certificate in personal coaching – I'm a trained coach with a foundation in the co-active coaching model. When not doing art, I'm Director of Facilities for a bio/pharma company in South San Francisco.
My experience in the business world has been in a variety of consulting and corporate positions. I develop and execute ambitious strategic plans, sometimes including marketing and sales elements. I've been a director of a corporate group where it was my job to manage >$25M budgets, sell  organizations on new programs, and inject some fun to motivate people. I love using the creative right side of my brain, along with the practical left side to accomplish objectives. Every year, I set and hit my marks.
I have also studied with Michael Harner at the California Institute for Integral Studies and have used guided visualization consistently to tap into my own creativity and remove blocks that hold back my work. I do this intuitive work in a practical and grounded way to help people find clarity and unstick creative blocks.
Services and Availability
As a working artist, I'm active in professional groups and have served on the Board of Directors for Art in Action as well as the Half Moon Bay Arts & Pumpkin Festival, Colony of Coastside Artists (CoCA) and the Coastside Doctors Without Borders Fundraiser Committee.
I teach art classes as time permits and to give back to my community, I serve on the Board of Directors for Silicon Valley Open Studios (Silicon Valley Visual Arts) and am the District 3 commissioner for the San Mateo County Arts Commission.
I am available for commissioned work,  art and business workshops, public speaking, and consulting.